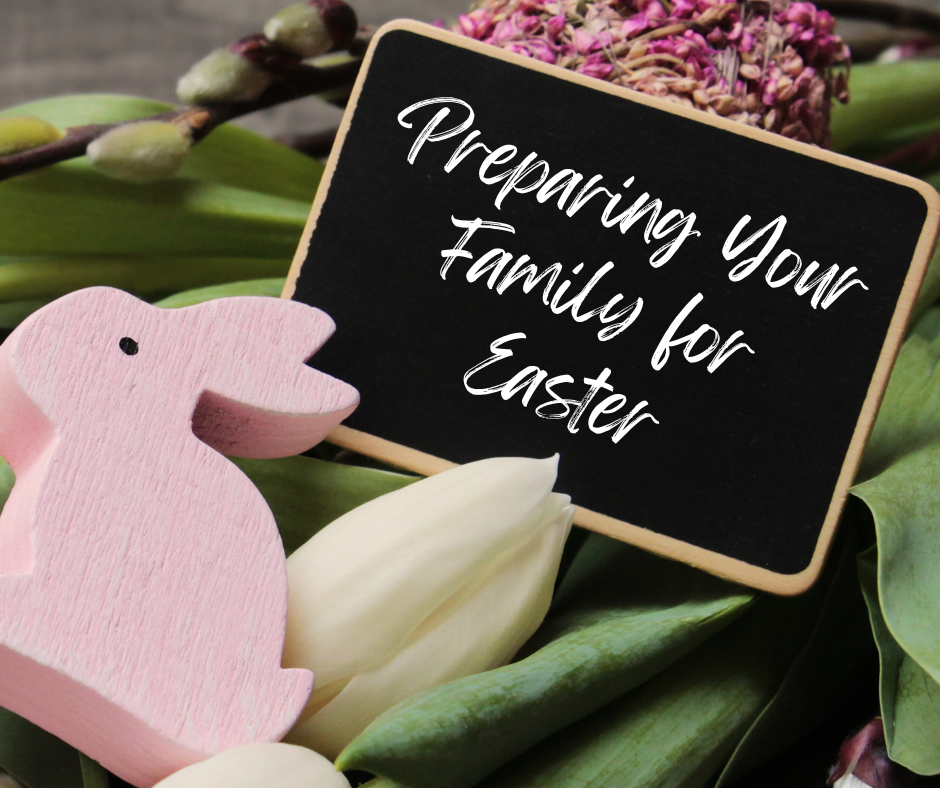 If you are looking for a few faith-based resources to help you and your family prepare for Easter (much like you prepare for Christmas), take a look at some of my favorites!   It's not too early to plan since Lent begins on February 22nd, Palm Sunday is April 2nd, and Easter is April 9th!  If you want to be intentional about Easter, now is the time to get your hands on some resources. Preparing your family for Easter couldn't be any easier with some of my favorite resources!  Whether you start with Lent or wait until Easter Sunday, there are resources to fit your family!  
This post contains affiliate links, which means I receive a small commission, at no extra cost to you, if you make a purchase using this link. Please see my disclosure for more details.
Amon's Adventure
Begin with Lent, February 22
If you're looking for a resource to carry your family through the entire Lenten season, Amon's Adventure might be a great option!   Amon's Adventure is a fictional story set in Jerusalem during the time of Christ.  Amon, a 13 year old, is caught up in a life and death mystery that sends him on a quest to discover the truth.  A stubborn lad, Amon and his friends encounter several people you'll recognize from Biblical times.  This cleaver story is a look inside of what life might have been like during the days of Jesus.  The adventure will captivate young and old alike.  Arnold Ytreeide also includes a family devotional at the end of each chapter along with ways to make Lent meaningful.  This book is recommended for ages 4-12, but I expect the whole family will like this one, including the adults!   You can start preparing your family for Easter as early as February 22nd! (Click on the picture to order.)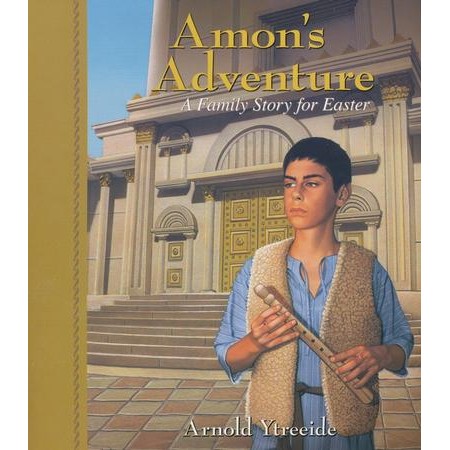 The Garden, the Curtain and the Cross
Use with the Calendar 15 Days Prior to Easter, March 26
Part of the Tales that Tell The Truth Series, The Garden, The Curtain and The Cross does an excellent job of tracing the story of the Bible through four touch points in the Bible.  Carl Laferton begins with the Garden of Eden, explaining how mankind's rebellion separates us from God. He continues on to the curtain in the Temple, another visual separation between God and man.  The next stop is the Cross, followed by the Resurrection, where we learn how the relationship between God and man is restored through Jesus.  I really can't think of a better resource for teaching children ages 3-6 about Easter.  Read on for some companion resources available with this book!  
Plus a Coloring Book and Calendar/Devo Combo! 
There is a companion coloring and activity book perfect for elementary aged children.  Make learning about Easter fun and memorable by engaging your child's creative side!  
AND ONE MORE companion resource to use with The Garden, The Curtain and The Cross is the Easter calendar and devotional.  The calendar  gives you 15 doors to open leading up to Easter along with 10-minute family devotions to guide you through the Easter season.  If you want to use this for Easter, order early!  This resource could easily make teaching your children about Easter a family tradition!
Darkest Night Brightest Day
Begin on Palm Sunday, April 2
This little family devotional allows you to begin preparing your family for Easter on Palm Sunday (April 2nd). You'll begin with Darkest Night, seven days of family devotions. This side of the book takes you through  Jesus' final week, as he completes his earthly mission. Then on Easter morning, you'll flip the book over and begin reading through Brightest Day. Here the author, Marty Machowski takes your family through 7 more daily devotions covering the resurrection appearances of Christ, his ascension, and Pentecost. Recommended for ages 7 and up. (Click on the picture to order)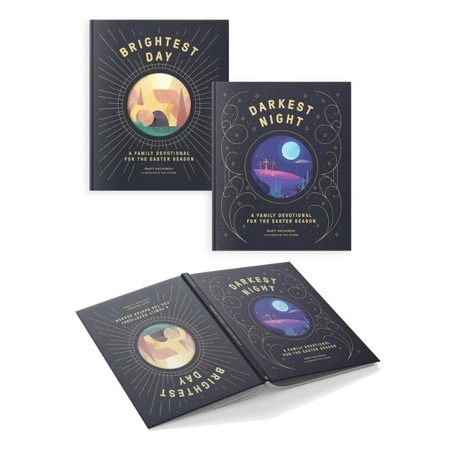 Resurrection Eggs and Benjamin's Box
Easter Day Fun and Learning!
The Easter Egg Hunt is one tradition that most families with children want to keep!  How about making it meaningful by hiding Resurrection Eggs?!  Each egg contains a reminder of Jesus' final days leading up to the resurrection.  And the booklet included with the set helps parents teach children about the true meaning of Easter!  For ages 5 and up!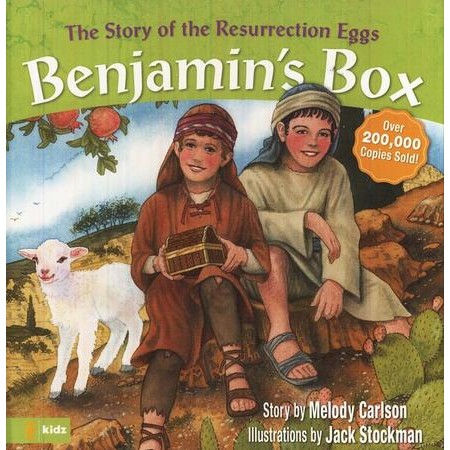 If you're thinking about using Resurrection Eggs or  already have them, you might want to add Benjamin's Box as you use the Resurrection Eggs. In this story, the ever curious Benjamin and his friend Eli hear about a new king coming to town, so they decide to check him out.  Along the way, Benjamin fills his treasure box with things that remind him of his adventures and the king he sees.  As you read each section of Benjamin's Box,  have your child open the coordinating Resurrection Egg.  In the end, both your children and Benjamin discover that Jesus is the greatest treasure of all! Recommended for ages 3-8 years old.
The Tale of Three Trees
A Great Gospel Story Any Time
This book is a long-time favorite of mine!  Three little trees in a forest dream of what they will be one day when they are grown.  One day, woodsmen come and cut them down.  Each tree is fashioned into something very common, very unlike the dreams they once had.  But wait, there is much more to this story that involves a greater plan and a grander use!  Recommended for Kindergarten to 2nd grade.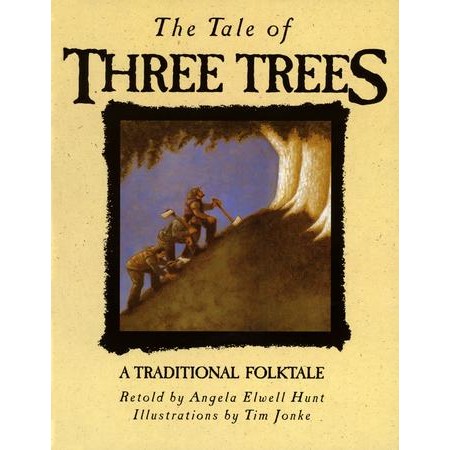 This post contains affiliate links, which means I receive a small commission, at no extra cost to you, if you make a purchase using this link. Please see my disclosure for more details.
Bonus:  Resurrection Cookies Recipe
Make These the Night Before Easter
Resurrection cookies are a great way to illustrate the true meaning of Easter.  You'll make these the night before and on Easter morning open the oven to find a surprise!  Use the illustrations below as you make these egg white cookies for a teachable moment on the crucifixion and resurrection. 
The Night Before
1) Pre-heat oven to 300 degrees.  In a medium glass bowl separate out 3 egg whites. Set aside.
2) Crush 1 cup of Pecan halves in a plastic baggie and read John 19:1-3.  Talk about how Jesus did nothing wrong but was beaten.
3) Sprinkle a pinch of salt onto the egg whites.  Read Luke 23:27 and talk about the salty tears of those watched as Jesus made his way to the cross.
4) Add 1 tsp. of white vinegar to the egg whites and read John 19:28-30.  Talk about the vinegar offered to Jesus before he died. 
5) Add 1 cup of sugar to the egg white mixture and beat with a mixer until stiff peaks are formed (about 12 minutes).  Read John 3:16 and talk about the sweetness of God's plan to send Jesus to die for our sins.
6) Fold in the pecans.  Drop by teaspoons onto a parchment lined baking sheet.  Read Matthew 27:57-60 and talk about how Jesus' friends buried his body by wrapping it in white cloth (just like the pecans are wrapped in the white eggs). 
7) Place the cookies in the pre-heated oven and turn it OFF!  Go to bed, leaving the cookies in the cooling oven overnight.  Do not open the oven door! Read  Matthew 27:64-66 and talk about how Pilate sealed Jesus' tomb. 
Easter Morning
8) In the morning, open the oven and take out the cookies.  Have each child break open a cookie to reveal that it's empty. Read Matthew 28:1-9.  Explain that Jesus' tomb was empty, just like the cookies are empty inside.  Jesus is risen from the dead! And that's why we celebrate Easter! 
I have more ideas!
Looking for some additional resources or want a direct link to the weekly blog posts?  Be sure to sign up for our newsletter!  You'll get great resources sent straight to your inbox!