I was recently asked for some Christian resources on grief for children. A friend's grandson was taking the loss of his beloved grandfather hard. That's to be expected. Grief is a new emotion for most children. The loss of someone close sets off a host of feelings in everyone, including children. And these new feelings can be hard to process. So how can you help your child if you are in this situation? That's what we want to look at today as we dive into the topic of helping children grieve.
Don't Assume They're Unaware
At first glance, you might think that your children have no idea what is going on. Children might seem to be distracted with other things, but those little ears are perceptive and know when things are off. It might surprise you to learn how much of the grown-up conversations they are listening to and understanding. So, don't ignore their grief. They might not grieve the same way you do, but the loss will be just as significant. Grief is a new emotion for them. They may have difficulty finding the right words to describe what they are feeling. This is where a feelings chart comes in handy. These illustrate feelings through facial expressions. Even using emoji's can be helpful. Here are a few to help you start.

From Emoji to Conversation
Once your child identifies a feeling, it's time to ask some questions. Are they expressing confusion? What questions do they have? They may need you to fill in some details about what happened. Are they dealing with worry or fear? What's the root of those worries? Some children fear their own mortality during times of grief. Or they may be worried that other family members will die. You can use the opportunity to reassure them. Have them draw their own emoji. They may have many emotions to express. Once you've started this conversation, be ready with some scripture to assure your child of God's helpful presence. Turning from raw emotion to trust in God is a powerful tool in helping children grieve.

Children Grieve Differently
Let's face it, children grieve differently. What you might notice most is their ability to feel deeply one moment and then the next moment be distracted by something else. We all know that children have short attention spans. Don't be thrown off by this. Children want their lives back to normal as soon as possible. They are seeking the familiar. As Nancy Guthrie notes in When Your Family's Lost a Loved One, "Play and entertainment give kids a break from their grief. They have the gift of not feeling guilty about continuing to enjoy life in the midst of loss – whereas we adults often struggle with that."
Processing Grief
One thing I do know about grief is that everyone grieves differently. Children are no different. As the adult in their lives, helping children grieve will mean you'll need to follow their lead. I remember when my father died, our grandson was processing the loss. Although he didn't know my father well, he knew that we were sad. Part of his processing involved drawing. Here's his picture:
He wrote, "I feel very sorry that your dad passed away. I hope that his spirit is still with you. Hope you feel better." What is so sweet about this picture is that the people are smiling, even my father. Drawing is a great way to help children grieve. If they are unable to talk about their emotions, drawing may help them express their feelings.
Be Real
What I noticed in our grandson's picture is how he drew my father. During his final months, my father's leg was amputated. And our grandson drew this in the picture. Which brings me to another point about helping children process grief. It's important that we don't make people larger than life or ignore the hard things. Nancy Guthrie points out, "when we laugh about the foibles of the one who died, or cry about hurts he or she left behind, we help our children deal with reality rather than idealizing the lost loved one. If they sense that the one who died can be spoken of only in the most positive—even superlative—terms, they'll know that any negative remembrance is unwelcome even thought it might be healthy to discuss." Be real with your child and talk through the good, the bad, the sad, and the funny!
Talking About Heaven
When a loss occurs, many people start talking about heaven. There are many misconceptions about heaven. People who have died do not become angels or guide us from heaven; these sentiments are unbiblical. But we've all heard these concepts offered as comfort, especially to children. When talking to children about loss, we need to be honest about heaven. A child needs to know how people gain entrance into heaven; through the work of Jesus Christ. If you suspect your loved one was not a follower of Jesus, this can be tricky. The truth is, only Jesus knows the heart of the person just before he died. Your loved one might have cried out to Jesus in their last moments. We simply don't know. But we trust that Jesus receives all who cry out to him in humility. The thief on the cross beside Jesus is proof of that.
Resources from Nancy Guthrie
I've mentioned David and Nancy Guthrie's book, When Your Family's Lost a Loved One. The chapter on Helping Kids Cope is very helpful. David and Nancy lost two of their children to a rare genetic disease and they had to help their other son, Matt, process the loss of a sibling. You'll find their insights very helpful. The Guthrie's have written another helpful book entitled, What Grieving People Wish You Knew. Although this book does not specifically address the grief of children, it's a great book to help anyone understand how to interact with grieving people.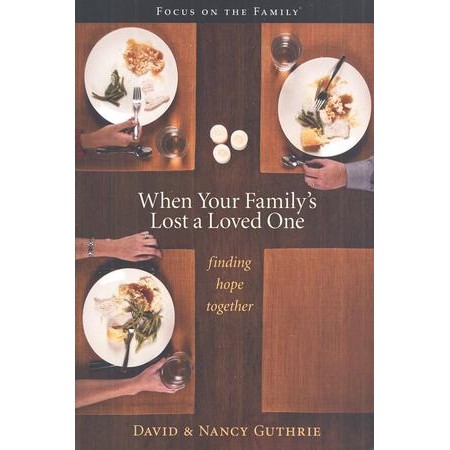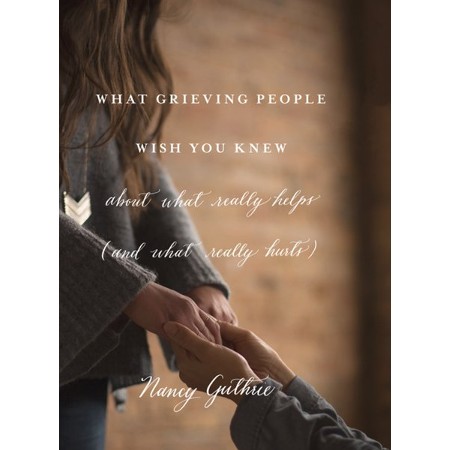 This post contains affiliate links, which means I receive a small commission, at no extra cost to you, if you make a purchase using this link. Please see my disclosure for more details.
Henry Says Good-Bye
Another wonderful resource for helping children grieve is Henry Says Good-Bye. It's part of the Good News for Little Hearts series. Henry Hedgehog has a pet ladybug, Lila. One day, Lila dies. As Henry processes his own grief, sadness, and anger, he shuts out his friends. But they loved Lila, too! And when they begin to share their memories of Lila, Henry sees he is not the only one hurting. You'll appreciate the parent pages in the back of the book. And your child can use the "Back Pocket Bible Verses" as reminders of God's care and love through sadness.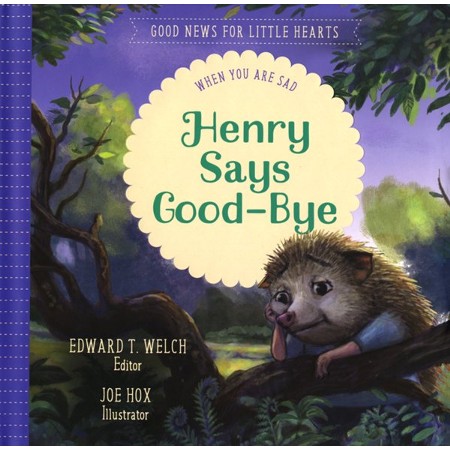 This post contains affiliate links, which means I receive a small commission, at no extra cost to you, if you make a purchase using this link. Please see my disclosure for more details.
I have more ideas!
Looking for some additional resources or want a direct link to the weekly blog posts? Be sure to sign up up below! You'll get great resources sent straight to your inbox!