As a post script to our four part series, Bible Comprehension, I wanted to give you one more resource that I think will be helpful to you in explaining the concept of original sin to your children. In Bible Comprehension, we talked about Creation, The Fall, Redemption and Restoration. I've camped out on the topic of The Fall, sin and our sin nature in several blog posts recently. Follow the links below if you'd like to review those posts.
Review The Fall post from Bible Comprehension 102
Review the Sin Nature Post with the Chocolate Object Lesson
AFTER I wrote all of those posts, I ran across a book that does an excellent job of discussing the problem of evil, the sin nature and God's good nature in a way that your littles can understand. So, if you weren't brave enough to do the chocolate syrup object lesson, here is another age appropriate and much less messy alternative to talking about sin and it's tangle in our lives.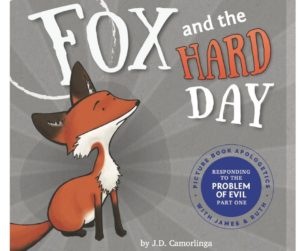 Fox and the Hard Day
Fox and the Hard Day is another superb children's book written by J.D. Camorlinga of Picturebook Apologetics. I just can't seem to get enough of these inquisitive critters in the lives of James and Ruth, two kids who have a solid Biblical worldview and are able to communicate it clearly. This edition has Fox questioning why God allows bad things to happen. Sound familiar? Maybe you've asked that question too! Since James and Ruth know God's character and their Bible, they are able to tell Fox all about the effects of sin in our world. They discuss the sin nature and show Fox that having a choice is much better than being a robot! They also have a perspective that is a little bit bigger than the moment.
In the back of the book, the authors give some great parental follow-ups to use with your children to take the discussion even further. You really should consider making this book a part of your home library. I expect your kids will return to it time and again as they encounter their own Hard Days!
This post contains affiliate links, which means I receive a small commission, at no extra cost to you, if you make a purchase using this link. Please see my disclosure for more details.
I have more ideas!
Looking for some additional resources? Be sure to sign up for our newsletter! You'll get great resources sent straight to your inbox!