What is Advent anyway? It's a time of year when we pause to remember the first coming of Jesus and anticipate his second coming. The word advent means "arrival" or "an appearing" or "coming into place." Christmas celebrates Jesus' first appearing. And Christians anticipate Jesus' second coming sometime in the future. Advent is a special way of remembering and anticipating. Advent begins the fourth Sunday prior to Christmas, very soon after Thanksgiving. Five candles are arranged in an evergreen wreath. Each of these candles has a special meaning. All of these things represent the hope of eternal life in Christ who is the light of the world. Celebrating Advent at home can help your whole family understand the true meaning of Christmas. Let's explore how you can make Advent a part of your family traditions this December!
Advent at Home
Making Advent a part of your family tradition is pretty easy. You can assemble your own Advent wreath (or purchase a pre-made one) and set aside some time as a family to reflect on the arrival of Jesus. That will be the harder part, carving out the time! We all say we want to focus on the true meaning of Christmas. Now is the time to plan that! Fortunately, there are plenty of resources to help with the content you'll use each week. I have found one that I absolutely love! It's written by Marty Machowski; I've mentioned him before. The title is Prepare Him Room, don't you just love that title?! We all want to prepare room for Jesus this December! Let's take a look at what's inside!
What the Book Covers
Prepare Him Room is purposeful in helping families celebrate Advent at home. The book takes each of the four weeks of Advent and gives three lessons for each week, plus a reading from a Christmas story about an orphan named Christopher. The lessons cover various Old Testament prophecies and show how Jesus fulfills those prophecies. There are discussion questions, family activities and even sing-alongs! Each week includes a Christmas story of an orphan named Christopher that is sure to engage your children as they learn how Christopher is adopted into a new family. It's a sweet story that applies what the children are learning about their own adoption into God's family.
Some of the Features
Family activities are part of this Advent plan and you will need to do some planning to pull these off. They include things like caroling in the neighborhood, making popcorn garland and even baking cookies together.
Music is also a key feature of the Advent plan. Lyrics to songs are in each lesson. Some of the songs are familiar Christmas tunes, but others are new. You do have the option to skip the new songs each week. But if you want the full package, there is a CD, sold separately, that has the music you will need for the new songs (and some of the familiar tunes).
This post contains affiliate links, which means I receive a small commission, at no extra cost to you, if you make a purchase using this link. Please see my disclosure for more details.
Object lessons are another important component of each week's lessons. Object lessons illustrate the point of each lesson and will help your children remember what they are learning. And they are FUN! These object lessons are easy to assemble with things you should have around the house (a supply list is included, just in case).
Celebrating Advent at home is a special time with family. It gives you the chance to make Jesus central to your Christmas celebration. And it will help your children understand why Jesus' birth is so important to the world and to each of them personally. I hope you will enjoy Prepare Him Room this year and for years to come as you make it part of your family Advent tradition!
Prepare Him Room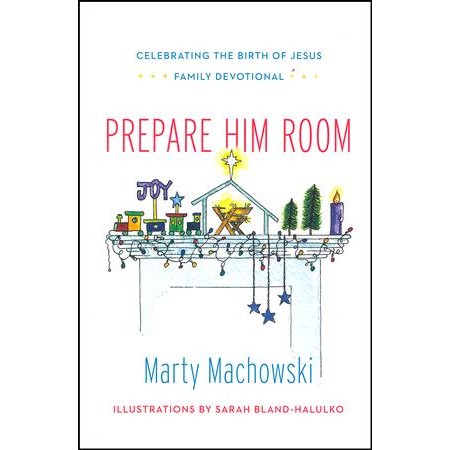 This post contains affiliate links, which means I receive a small commission, at no extra cost to you, if you make a purchase using this link. Please see my disclosure for more details.
I Have More Ideas!
Be sure to sign up for our newsletter and get weekly emails when a new blog is posted! You'll get great resources sent straight to your inbox!