If you haven't already started a family tradition of celebrating Advent, it's not too late, even this year! I've just finished an Advent book entitled Dinner Table Advent. If you can spare 10 minutes before or after a family meal, then you'll have time to teach your family about the true meaning of Christmas. The week just before Christmas is a perfect time to start! You can begin as late as Tuesday, December 20th to light the Prophecy Candle, Bethlehem Candle, Shepherd's Candle, Angel's Candle and the Christ Candle. One for each day leading up to Christmas Day. On Christmas Day, read the entire story of Jesus' birth in chronological order. Let's take a look inside Dinner Table Advent to see how 10 minutes can help your family focus on the true meaning of Christmas!
The Prophecy of Foreign Kings
The lessons are designed for short attention spans, allow for a wide age range and include interactive elements to engage the whole family. Here is the first lesson, the Prophecy Candle. If you like what you see, order the e-book to get the remaining lessons. Start with #1 by explaining what Advent means (this page is included in the e-book), light the first candle and then move on to #2. Have one of your children read Psalm 72:10-11 and then discuss the questions provided as a family.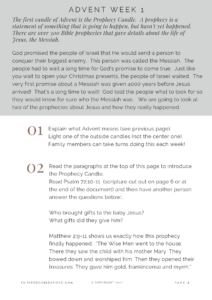 The Prophecy of Jesus' Birthplace
Next have your child read Micah 5:2. Be sure to discuss the answer to the question in #3 and then move on to #4 and #5. Step-by-step Dinner Table Advent leads you through a 10-minute advent celebration that is do-able for the busiest of families!
Easy to Read Bible Passages
We've made this easy on you by including passages from the NIRV version. Early readers should be able to read the passages, with a little help from mom and dad. The scripture passage cut-outs are available in black and white at the end of the e-book so that you can print out those pages and cut out each scripture reading. This makes it more fun for littles (you want to include them) and easier on your printer! That's a look inside Dinner Table Advent. Incorporating Advent into your Christmas week just got easier!
What Others Are Saying
"I love this. You pull scripture together so nicely and explain it in a kid friendly way without diluting the gospel. It is so interactive, and parents don't have to be knowledgeable themselves to share. It is clear, easy to follow, and is such a help to parents who struggle to explain the truth of Christmas to their kids. What a blessing this will be to people." – Amy C.
Dinner Table Advent
I hope you like what you've seen so far in Dinner Table Advent! For those of you who are still scrambling to make Christmas meaningful, I've got you covered! Download Dinner Table Advent today and start a family advent tradition that can be celebrated for years to come!
Be Sure to Sign Up For Our Newsletter!
Sign up to get our newsletter and weekly emails when a new blog is posted! You'll get great resources sent straight to your inbox!